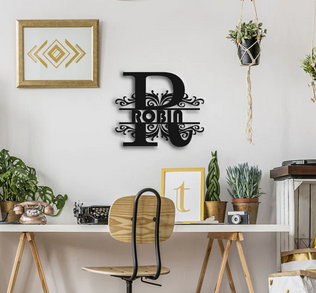 Description
Shipping Policy
Are you looking for a special way to commemorate a special occasion or event? Look no further than our unique metal letter R signs! Crafted with care and precision, these signs add a touch of elegance and sophistication to any celebration.
Our metal letter R signs are made from high-quality materials that ensure they will last for years to come. We offer a variety of finishes to choose from, including gold, silver, copper, and brass. Each sign is expertly crafted to perfection, with precise edges and a flawless finish.
One of the best things about our metal letter R signs is their versatility. Whether you're celebrating a wedding, anniversary, graduation, or any other special occasion, our signs can be used in a variety of ways. Use them as a backdrop for photo booths, centerpieces on tables, or even as part of the decor on a wedding cake. The possibilities are endless!
Another great thing about our metal letter R signs is that they can be customized to suit your specific needs. We offer a range of sizes, from small tabletop signs to large freestanding letters. And if you have a specific font or design in mind, we can work with you to create a custom sign that perfectly fits your vision.
At our company, we pride ourselves on providing exceptional customer service. From the moment you place your order, our team is dedicated to ensuring that you receive the perfect sign for your special occasion. We offer fast shipping and easy returns, so you can shop with confidence.
In conclusion, if you're looking for a unique way to celebrate a special occasion, our metal letter R signs are the perfect choice. With their timeless elegance and customizable options, they're sure to make your event one to remember. So why wait? Order your metal letter R sign today and start planning your unforgettable celebration!
The starting price is $59
Clink Here To Fill In The Form