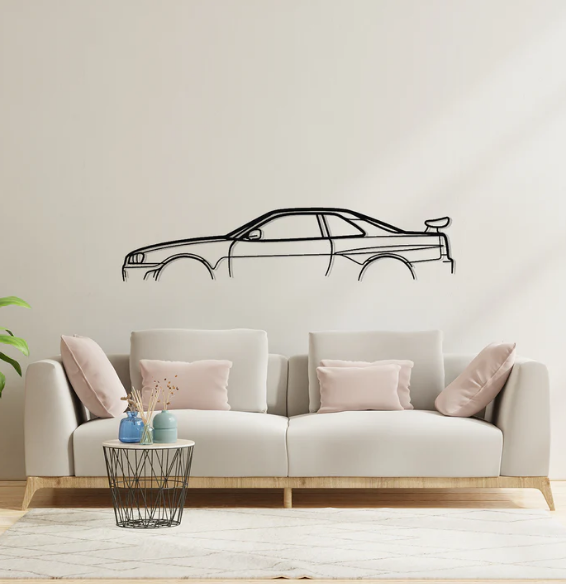 Description
Shipping Policy
How to customise
If you're a fan of the iconic Japanese sports car, the Skyline GT-R R34, you know just how powerful and impressive it is. And now, you can bring that power and style into your home with our sleek Skyline GT-R R34 wall decor.
Made from high-quality metal, our Skyline GT-R R34 wall art features a sleek and stylish silhouette of the car in action, capturing the essence of the vehicle's speed and performance. Whether you're a fan of the classic blue or prefer a more unique color scheme, our range of finishes means you can find the perfect piece to match your style and space.
Not only is Skyline GT-R R34 wall decor a great way to show off your love for the car, but it's also a great way to elevate your home decor. The sleek and modern design adds a touch of sophistication to any room, from a home office to a living room or entertainment space.
Plus, our wall art is durable and long-lasting, so you can enjoy your Skyline GT-R R34 decor for years to come. And with easy installation, you can have your new wall art up and ready to admire in no time.
Transform your space with our sleek Skyline GT-R R34 wall decor and add a touch of JDM style to your home. With our high-quality pieces and unbeatable designs, you're sure to find the perfect addition to your decor that will be admired for years to come. Order yours today and get ready to turn heads with your stunning new wall art.
tags:
Custom Cars
Metal Wall Sculpture
Metal Car Silhouette
The starting price is $59
Clink Here To Fill In The Form