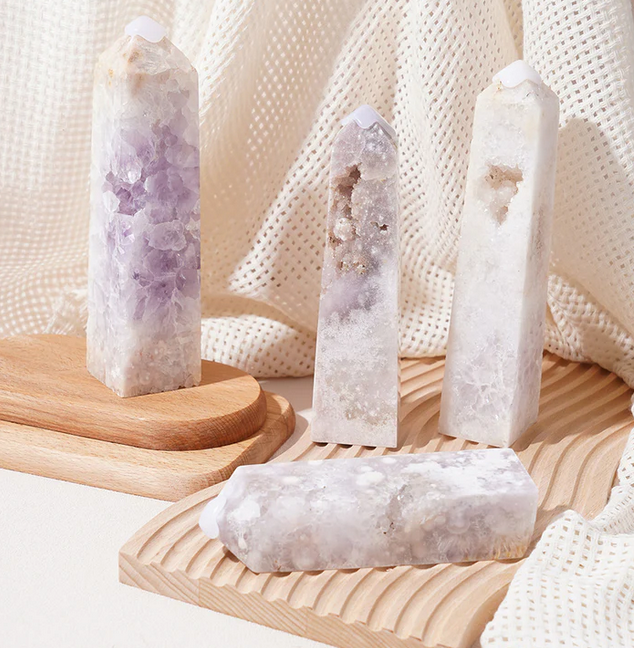 Description
Shipping Policy
How to customise
Hightlights:
Natural Pink Amethyst Tower
Materials:Pink Amethyst
Size:
Size #1: Approximately1.7"X1.7"X8" Weight 0.86KG
Size #2 Approximately1.7"X1.4"X7.1" "Weight 0.57KG
Size #3: Approximately1.5"X1.7"X8" Weight 0.67KG
Size #4: Approximately1.7"X1.4"X6 " Weight 0.56KG
Size#5: Approximately2.2"X1.5"X7.5 " Weight 0.83KG
Size#6: Approximately2.1"X1.6"X9.7 " Weight 1.08KG
Size #7: Approximately1.3"X1.2"X6.6 " Weight 0.4KG
Description:
Dreamlike incredible polished pink amethyst towers with very sparkly sugary druzy . Has a lovely mix of colors of pink or white or light purple. These beautiful towers make a spectacular combination to enhance your home décor.Girls can't help to fall in love with these pink stones. Perfect for Valentine's day gift. Your girl friend would be happy for the sweetie gift.
Pink Amethyst is thought to support tapping into one's intuition, finding clarity in the mind, and providing a calm environment.A powerful and protective stone. It guards against psychic attack, transmuting the energy into love and protecting the wearer from all types of harm, including geopathic or electromagnetic stress and ill wishes from others
Important shopping notes:
1.You will receive the exact one in the photo. There is 1-2cm size error due to manual measurement.
2.All the images we listed are 100% real photos.But different monitor or phone screen display color differently.The color of real item may slight vary from the images.
The starting price is $59
Clink Here To Fill In The Form