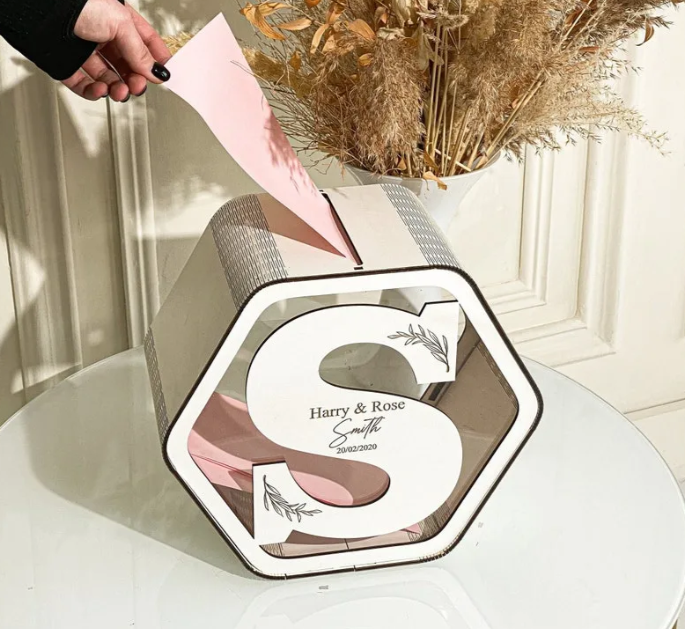 Rustic Wedding Card Chest - Personalized Wooden Gift Box for Weddings
A wedding is a joyous occasion that marks the beginning of a couple's journey together. It's a celebration of love, surrounded by family and friends who gather to share in the happiness. To add a touch of rustic charm and personalization to your wedding, consider incorporating a Rustic Wedding Card Chest - a personalized wooden gift box that not only serves as a stylish decor piece but also provides a safe and organized space for guests to place their well wishes and cards.
The Rustic Wedding Card Chest is a beautiful addition to any wedding venue. Handcrafted from high-quality wood, it showcases intricate detailing and a natural, rustic finish that adds warmth and character to the overall decor. Its sturdy construction ensures that it will securely hold the precious cards and messages from your loved ones throughout the celebration.
What sets this wedding card chest apart is its personalization feature. The lid of the chest can be customized with the couple's names, initials, or a special message. This personal touch adds a unique and sentimental element to the chest, making it a cherished keepsake for years to come. Every time the couple looks at the chest, they will be reminded of their special day and the love and support they received from their guests.
Beyond its decorative appeal, the Rustic Wedding Card Chest serves a practical purpose. It provides a designated space for guests to place their cards, ensuring that none of the well wishes and messages get misplaced or lost. Its generous size allows for a substantial amount of cards to be safely stored, giving the couple peace of mind during their celebration.
After the wedding, the Rustic Wedding Card Chest can be repurposed as a storage box for sentimental items. It can hold mementos such as photographs, dried flowers, or even the couple's wedding vows. This repurposing allows the chest to continue to hold memories and serve as a cherished reminder of the couple's special day.
In conclusion, the Rustic Wedding Card Chest is not only a beautiful decor piece but also a practical and personalized addition to any wedding. With its rustic charm and customizable features, it adds a touch of warmth and personality to the celebration. As a wooden gift box, it provides a safe and organized space for guests to express their well wishes, while also becoming a meaningful keepsake that the couple can treasure long after their wedding day.