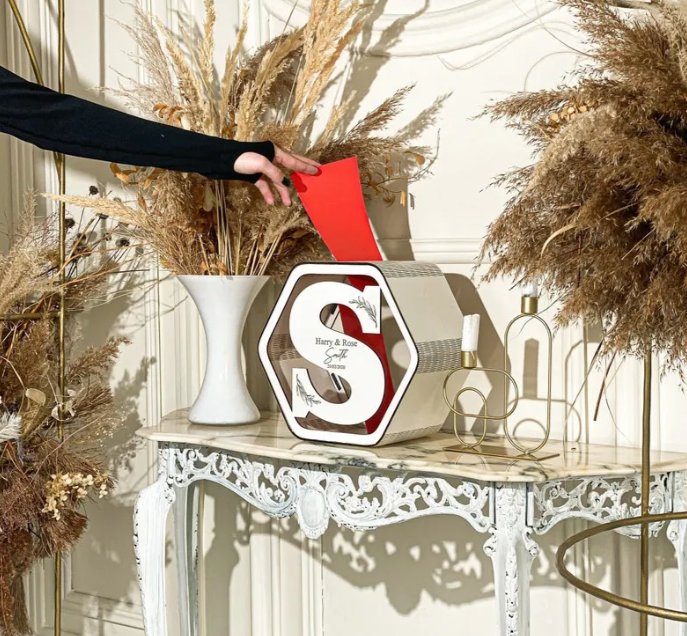 Engraved Wedding Card Box - Rustic Customizable Wedding Decoration
A wedding is a celebration of love and commitment, and every couple wants their special day to be memorable and unique. One way to add a personal touch to your wedding reception is through the use of a customized and engraved wedding card box. This rustic and customizable decoration not only serves a practical purpose but also becomes a beautiful keepsake of your special day.
The engraved wedding card box is a stunning addition to any wedding reception decor. Crafted with a rustic charm, it blends seamlessly with various themes, such as vintage, bohemian, or outdoor weddings. Made from high-quality materials, it exudes durability and elegance, ensuring that it will be a cherished item for years to come.
What makes this wedding card box truly special is the opportunity for customization. The lid of the box can be engraved with the couple's names, wedding date, or a heartfelt message. This personalization adds a unique and intimate touch, making the box a reflection of the couple's love story. It becomes not just a decoration but a symbol of their commitment and journey together.
Aside from its aesthetic appeal, the engraved wedding card box serves a practical purpose during the reception. It provides a designated and secure place for guests to place their well wishes and congratulatory cards. With its ample size, it can hold a considerable number of cards, ensuring that none of the heartfelt messages from loved ones go unnoticed.
After the wedding, the engraved wedding card box becomes a treasured keepsake. It can be displayed in the couple's home as a reminder of their special day and the love and support they received from their friends and family. It can also be repurposed as a memory box, holding precious mementos from the wedding, such as dried flowers, photographs, or even the wedding invitation itself.
In conclusion, the engraved wedding card box is a versatile and meaningful addition to any wedding reception. Its rustic charm, customizable features, and practical functionality make it an essential decoration and keepsake. By incorporating this unique piece into your wedding decor, you create a lasting memory of your special day and a tangible representation of your love and commitment.